Opened in September 2019, NAS Beijing will provide a state of the art, world-class teaching and learning environment with total student capacity of 1728. Providing a unique blended learning experience, NAS Beijing will offer students the best of eastern and western education resources and philosophies for students aged 6-18. The bilingual programme will be based on the Chinese K-12 curriculum blended with globally respected international teaching pedagogy and education resources. Located in the Fang Shan District of Beijing, the school has world class facilities that complement our innovative approach.
---
Job Opportunities
Vacancy added September 2021.
COVID 19 UPDATE
Dear Candidates,
Thank you for your interested in Nord Anglia School Beijing Fangshan!
Given the rapidly changing situation with regard to the Coronavirus outbreak in globally, we would like to make your aware of the following information regarding to the how to entry to China:
QTS or PGCE or similar teaching qualification recognized in countries where English is the first language.
We prefer the candidates in China now and will not plan travel overseas during winter and summer vacation. However, good candidates currently in overseas are acceptable.
1 – 4 years of teaching experience within the English National Curriculum (or equivalent national curriculum in an English speaking country or recognized international curriculum.
Working at
The NAS Beijing school opened in September 2019 and provide a state-of-the art teaching and learning environment for up to 1,728 students. The international learning experience at NAS Beijing will offer students aged 6–18 years old the best of eastern and western education resources and philosophies. The bilingual curriculum will be based on the National curriculum blended with globally respected international education resources and teaching methods. Students will gain a solid foundation of Chinese culture whilst being equipped with the knowledge and skills they will need to be successful in an increasingly globalized world.
The campus of NAS Beijing is spacious and modern, and its advanced learning facilities create a unique teaching environment for students. We are committed to creating and maintaining a safe, happy, child-centred learning environment for our students that motivates them to become lifelong learners with purpose. The new campus is equipped with world-class facilities to create a unique teaching environment for children.
How to Apply
Do you fit these criteria?
Teachers of Primary come from English Native Speaking Countries, only including Britain, USA, Canada, Australia, New Zealand, Ireland, Singapore and South Africa. If the teacher comes from other countries, no matter how long she/he lives or works in those seven countries, she/he cannot be the Primary Teacher or English Teacher in China.
If the teacher has BA in Education or linguistics (English), or she/he has the certificate of PGCE, TEFL or other certificates which can be legalised as Teaching Certificate, the two years working experience is not required from now on.
For the Secondary subject teacher, if she/he has the BA in Education or she/he has the certificate of PGCE, other certificates which can be legalised as Teaching Certificate, only two years related working experience is required according to the new policy.
China working age Restriction 24 – 55
2 Year contracts
To apply for a vacancy please send your CV and covering letter to
Teacher Benefits

Competitive Salary
Furnished 2-3 beds rooms apartment
School provided accommodation for first school year
Housing allowance available in your second if you select not to stay School accommodation.
Flight from 'home' destination to Beijing provided at the beginning/end of the contract for teachers and accompanying family.
Teachers are entitled to one mid contract economy return flight every year
The Teacher will be entitled to participate in the Employer's private healthcare scheme, 100% funded by the school.
A relocation allowance of up to RMB6,000 will be paid subject to the Teacher providing satisfactory receipts within sixty (60) days after arrival to Beijing
10% satisfactory contract completion bonus.

School Facilities

Our schools are designed for comfort and well-being, and feature modern facilities for sport, study and the arts. 1.
The Learning Resource Centre (LRC) is at the heart of our school. Open and inviting, and incorporating a range of different spaces for both group or individual learning.
We have a state of the art Performing Arts Centre. Music, drama and performance form an important strength of our school and this area has been designed to cultivate and inspire creativity.
Our classrooms comfortably cater for our maximum classroom size of 24 students.
Boarding Dorms for students
School canteen
Extensive sports and recreational facilities on our campus including: 25m international semi standard swimming pool, full sized indoor gymnasium, basketball courts, football area and athletics area.

Principal
Adrian Macaulay
Curriculum
English National Curriculum
---
The campus of Nord Anda School in Fangshan District, Beijing is spacious and modern, and the advanced learning facilities inside create a unique art teaching environment for students.
We create and maintain a safe, happy, child-centered learning and living environment for students, thereby inspiring them to become ideal and purposeful lifelong learners. The new school building is equipped with advanced facilities and provides advanced learning technology to create a high-quality teaching environment for children.
Each classroom in the elementary school can accommodate up to 24 students, and all classrooms are equipped with interactive whiteboards. At the same time, the elementary school is equipped with other professional classrooms, including: music classrooms, science classrooms, and information technology classrooms.
In the middle school, in addition to well-equipped classrooms, various multifunctional classrooms are provided, including: advanced music facilities, design studios, dedicated computer laboratories, science laboratories, art studios, photographic darkrooms, and two theater jobs. room.
We create independent learning spaces for high school students. Students also have independent study rooms and group cooperation facilities.
All of our classrooms have spacious corridors. We encourage students to use these spaces for independent learning or group discussions. To this end, we have set up a rest area on the corridor for students to use. These areas are also great for group discussions. location.
Learning Resource Center (LRC)
Our Learning Resource Center (LRC) is located at the heart of the school, which provides students with spacious, diverse, and open private and group study spaces. Students can enter the learning resource center every day to browse various books, and use the computer, electronic equipment and other resources of the center to expand and support their learning and group work. The center has a wealth of learning resources to meet the diverse learning needs of students. These resources include: small learning centers equipped with advanced equipment, computer centers, and quiet study areas. At the same time, our administrators will help the students accordingly.
Information Technology 
In today's increasingly globalized process, learning and technology have become synonymous. The school is equipped with advanced technology and equipment to ensure that all students can conduct research through the Internet and search engines at any time. At the same time, students can also log in to other learning platforms to enhance the study of subjects such as English and mathematics. Of course, they can also use the learning resources of our global campus network to discuss with students around the world.
During school, we also encourage students of a certain age to bring their own computer equipment to support their bilingual studies on weekdays.
School Cafeteria
The school-run restaurant advocates a healthy lifestyle. We design menus based on the opinions of professional nutritionists to ensure that every student can get rich nutrition during school. The variety of dishes makes our students look forward to dining.
Our restaurant is spacious, bright and modern, where students develop good dining habits and etiquette. Group meal times are a great opportunity for students to exercise their language and expand their vocabulary. Our teachers will dine with the students and use the dining opportunities to encourage students to communicate in bilingual. If you have special dietary needs, you can indicate in the application form, we will try our best to meet the needs of all students.
Boarding services 
The school's homestay service is open to students of all grades. Families in need can choose the homestay service at the same time when submitting an application. The school's boarding service is divided into 5 days, and parents can choose according to their needs.
Our boarding program focuses on cultivating children's social skills and independent learning ability on the basis of ensuring the comfort and health of students. Boarding life will be an extension of daytime learning. Boarders have the opportunity to use weekends and evenings to participate in various cultural, creative and sports-related activities organized by the school to expand their knowledge and learning skills.
At night, we have a host, a boarding teacher, a boarding aunt, and a subject teacher to accompany the children. The boarding teacher is mainly responsible for the student's boarding activities, discipline and behavioral rules. The boarding aunt is responsible for the daily life of the children. At the same time, the subject teacher also provides corresponding guidance for the children's learning at night. Children in the lower grades go to bed around 8pm, while children in the upper grades go to bed between 9:30 and 10:00.
Our boarding services focus on cultivating children's social and independent learning abilities while ensuring the comfort and happiness of students.
---
As one of the world's great ancient capitals, and the capital of the world's upcoming second superpower, Beijing is the most important and interesting city in China, both in relation to tourism and to understanding China. No one will skip Beijing if he/she only visit one city/region in China.
Beijing Is China's Ancient AND Modern Capital For more than 800 years, Beijing served as the capital of
six ancient dynasties
, the most famous being the Ming (1368–1644) and Qing (1644–1912) dynasties. It is home to the greatest collection of sites from
China's imperial past
, including the Great Wall, the Forbidden City, the Temple of Heaven, and the Summer Palace. Though it's not such a big tourist draw, Beijing's modernity is also interesting. If you have no time to go to Shanghai, Beijing offers you a chance to appreciate modern China — with its
hi-tech infrastructure and super-modern buildings
, like the "Bird's Nest" National Stadium and the Water Cube. There is also
a palpable prestige
in Beijing, fitting for the capital of this proud and powerful nation. Sample it at
Tian'anmen Square
during flag ceremonies at dawn and dusk, and at the Mausoleum of Chairman Mao. Beijing Is a Chinese Cultural Hub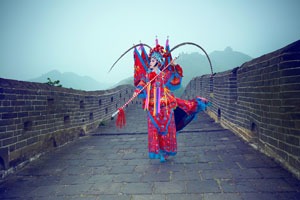 A Beijing opera actor on the Great Wall: China's culture and architectural feats are top reasons to visit.
Beijing is one of China's foremost cultural hubs, with its own renowned duck dish, its opera, housing styles, dialect, etc.
The world-famous

 

Peking roast duck

 

is a must-taste food in Beijing. With a history of more than 600 years, it is China's most famous imperial dishand has become

 

symbolic of traditional Chinese food.
Beijing opera, one of the classic art forms of imperial China, is regarded as one of

 

China's cultural treasures.
The ancient alleys,

 

the hutongs, are the last bastions of

 

traditional courtyard houses in Beijing. The best way to travel around the hutongs is by taking a rickshaw.
---
---